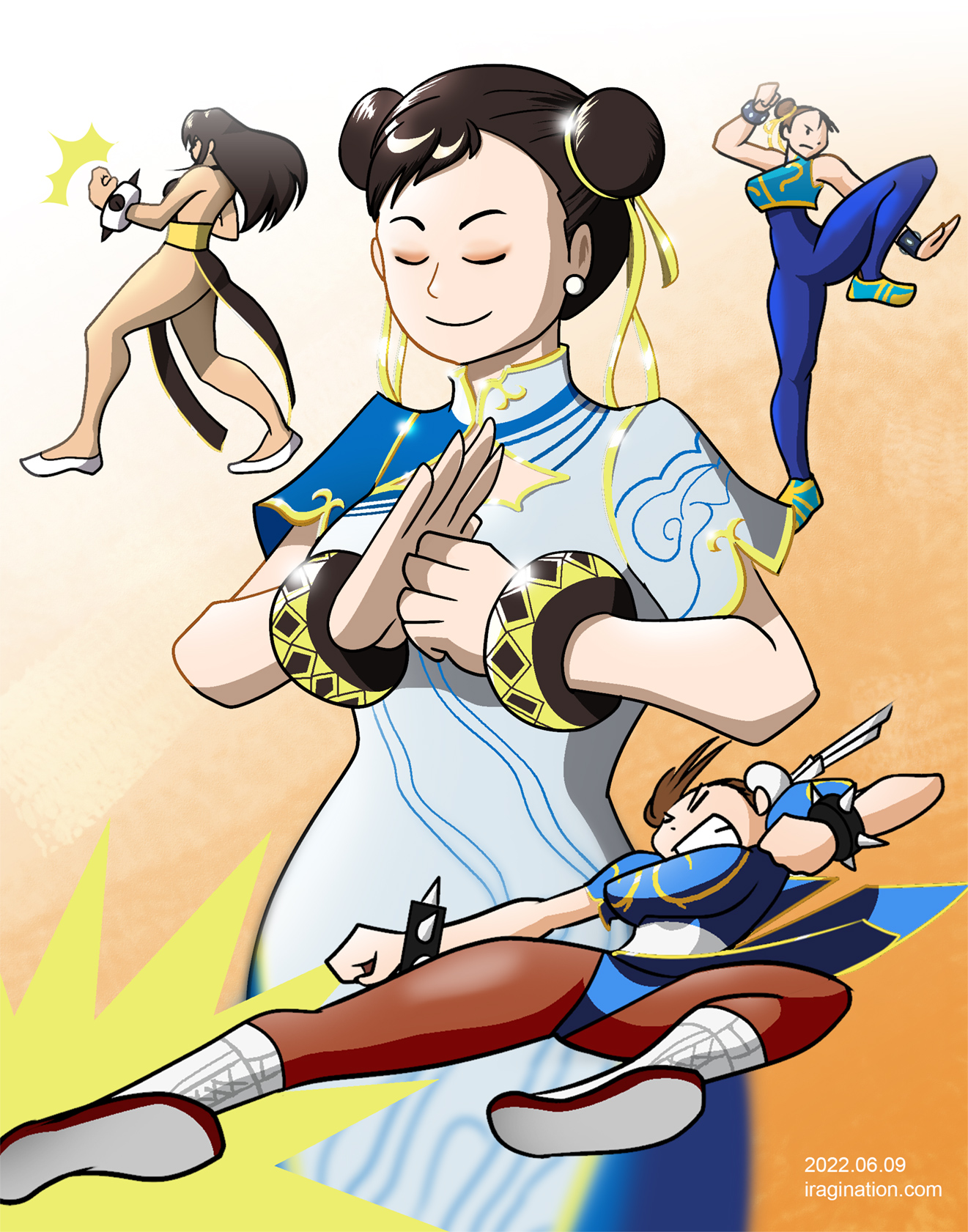 Chun-Li - Street Fighter 6
Chun-Li
is a character from the
Street Fighter
series, a game that is all the rage with the recent
Street Fighter 6 - Announce Trailer
.
I did not do much planning for this illustration, but as usual, I was doodling around, and this set of drawings did not come half bad, so I ended up coloring it. It is essentially a homage to Chun-Li and her many appearances in the Street Fighter series. I used to draw her a lot back in the day before I even had Internet access, and all my references came from video game magazines. As you can imagine, this was a very frustrating exercise with little to no progress. I like to think I have improved a bit after all these years so I gave it a try.
The central theme is, of course, Chun-Li's Street Fighter 6 outfit, revealed in the trailer. I really liked how calm and composed she looks there. Here, I guess she's having some nostalgic memories about her past selves.
The top left is her amazing black dress from
Street Fighter V
. The top right is from her younger years in
Street Fighter Alpha
.
For the last pose at the bottom, I used her original
Street Fighter 2
costume. As I was drawing it, I was actually thinking of a scene from
Marvel vs Capcom
that I saw in the arcades. I could not find a reference, so I drew it based solely on memories. My excuse is that I thought she has to go all out when fighting mutants and aliens.
As for the game, and I am not keeping up much with the news, honestly, I was not too fond of this repeated attempt of aging up the original characters to introduce a new set of fighters. This might sound hip or like a natural progression, but they already tried this back in the late 90s with
Street Fighter 3
. Urban music included. It was even more extreme back then, with a roster where
Ryu
was the only returning character from previous games. And they introduced
Alex
as
the new face of Street Fighter
or whatever. How did that work out for Alex? Anyway, let's see how they handle it this time. And maybe look forward to Street Fighter 7 where everyone is young again and
M. Bison
is back.
Street Fighter (C) CAPCOM