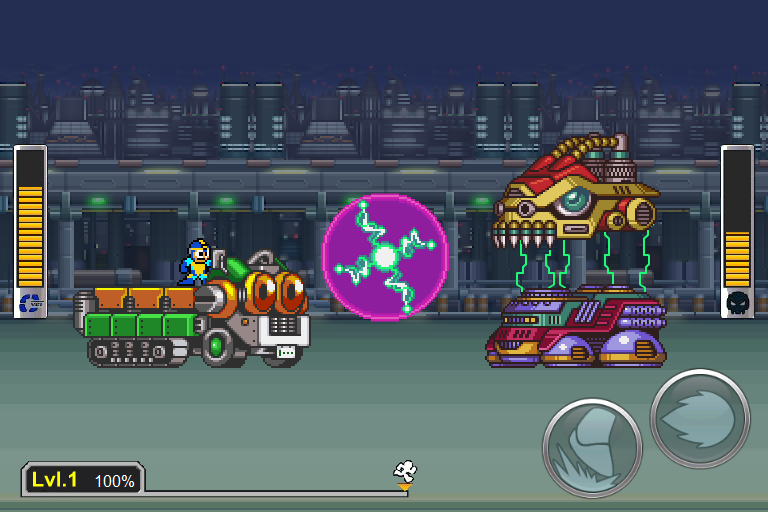 Hello guys. First update of the year, and hopefully not the only one, but well, at least this is a big one.
I recently enjoyed a holiday so I used my time to resume my work on my games. I wanted something simple so Bad Box Over was the best candidate. But as usual, simplicity is an understatement that nobody gets to define properly until they sit down and try to code one of these little beasts.
Luckily the enjoyment of seeing progress and solving new problems along the way kept me curious and motivated to advance and complete this update.
New Features
From the previous teaser ending, I knew I wanted to have at least a new level with Bad Box Art Mega Man driving Auto's truck causing mayhem on the streets. One thing leads to the next, so here's a brief list of the new features:
Improved horizontal scroll and speed up.
New Map: Level 2.
New Boss battle: DRex.
New music and improved music support.
Spike support.
Truck hit support (this is hilarious).
Truck stomp support.
Shielded areas.
New boss death animation theme.
Boss shots.
Better pause.
Warning banner.
Ready banner.
Multilevel support (Linear quest).
Configurable game scene (map, backgrounds, music, player, boss)
Checkpoint, death, and resume support.
New cutscene.
Truck destruction.
Item logic. Energy items. Energy load.
I had to stop there for this cut. As you can see in the new cut scene I have already set myself up for new gameplay elements that will not make the next update any easier. Oh well.
I have recorded some videos that you can check if you don't mind spoilers.
Read more »