May 7th, 2016 IRA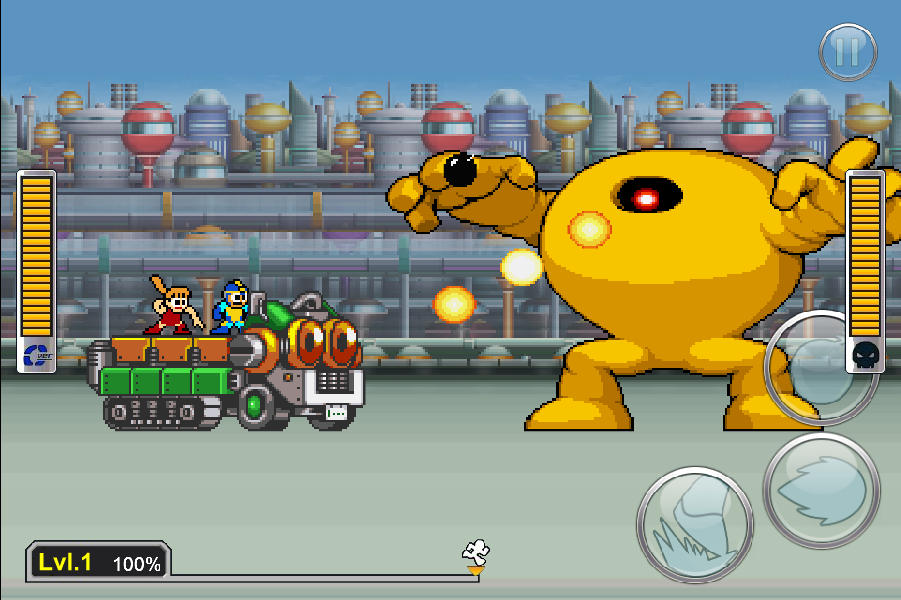 Hi everyone!
Bad Box Over gets a new level and a new character: Bad Box Art Roll.
Well, she's not exactly a standalone character, but as shown in the previous teaser, she joins Bad Box Art Mega Man in his cruise of mayhem.
I didn't know exactly how this would pan out more than a year ago when I put together the teaser, but everything is there: Passenger Roll? Check. Roll throws bombs? CHECK!
So a little explanation is in order for those who are not using touch controls. If you want to throw bombs, just press space bar. That's it. So essentially you have three weapons now, your regular shot (press control), bombs (press space), and your truck (run over enemies).
Everything else came organically as I resumed development earlier this year. I picked up a stage theme, song and enemies, and a boss along the way. This time it is Yellow Devil! It was a real joy to tune and extend the engine to account for all of this and I'm happy to be able to deliver in spite of my crazy schedule and natural disasters.
Here's a little summary of the changes in this update:
Passenger Bad Box Art Roll. Throw bombs with space bar.
Bombs destroy spikes!
New map: Level 3 and new boss: Yellow Devil
New cutscene and teaser.
New Level Picker. Choose where to start.
New Pause menu. Exit to title at any time.
Fixed many annoying bugs.
And here are the sprites I edited for Bad Box Art Roll

A lot of things have happened since I started this game. Probably the more relevant one is that Rockman Xover, the game this one was meant to parody, is no longer available in mobile app stores. Or even worse, even if you happen to have it, the servers that backed it for gameplay have been shut down, making it impossible to play. Ah, the joys of modern gaming.
That's a real shame. I think I was just starting to explore this style of gameplay and it has its charm once you put some effort into animations and transitions. Not going to lie, making games is difficult. Even if the game looks simple or it is easy to play.
Next update will probably be the last level. So yeah, even for a four level casual game, I think it has grown a lot for a game that was meant to be a parody. And a sandbox for programming experiments. Many of the concepts that I have implemented here will be ported to my other games in development, like Bass Abyss. Now that's a game that has become too big to manage sometimes.
Probably I'll give Bad Box Over a little break before I finish it and resume some other projects that I have in my backlog.
Almost forgot. A video of this new level, of course full of spoilers:
January 27th, 2015 IRA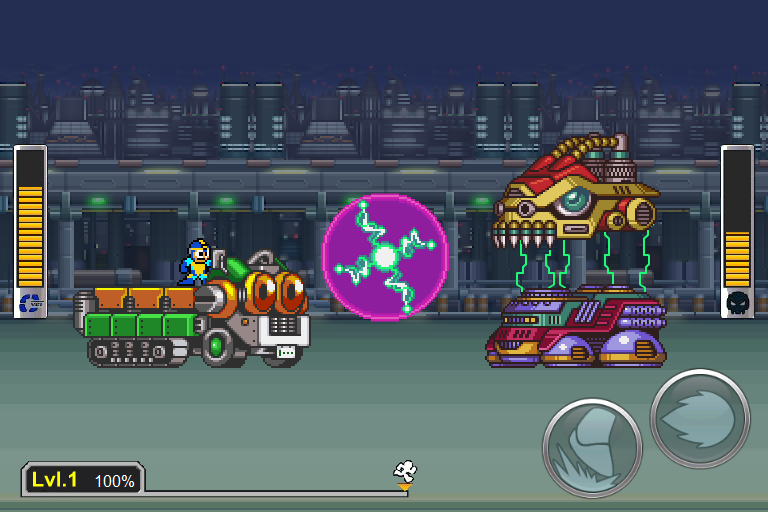 Hello guys. First update of the year, and hopefully not the only one, but well, at least this is a big one.
I recently enjoyed a holiday so I used my time to resume my work on my games. I wanted something simple so Bad Box Over was the best candidate. But as usual, simplicity is an understatement that nobody gets to understand until they sit down and try to code one of these little beasts. Luckily the enjoyment of seeing progress and solving new problems along the way kept me curious and motivated to advance and complete this update.
From the previous teaser ending I knew I wanted to have at least a new level with Bad Box Art Mega Man driving Auto's truck causing mayhem on the streets. One thing lead to the next, so here's a brief list of the new features:
Improved horizontal scroll and speed up.
New Map: Level 2.
New Boss battle: DRex.
New music and improved music support.
Spike support.
Truck hit support (this is hilarious).
Truck stomp support.
Shielded areas.
New boss death animation theme.
Boss shots.
Better pause.
Warning banner.
Ready banner.
Multilevel support (Linear quest).
Configurable game scene (map, backgrounds, music, player, boss)
Checkpoint, death and resume support.
New cut scene.
Truck destruction.
Item logic. Energy items. Energy load.
I had to stop there for this cut, but as you can see in the new cut scene I have already set me up for  new gameplay elements that will not make the next update any trivial either. Oh well.
I have recorded some videos that you can check if you don't mind spoilers.
March 16th, 2014 IRA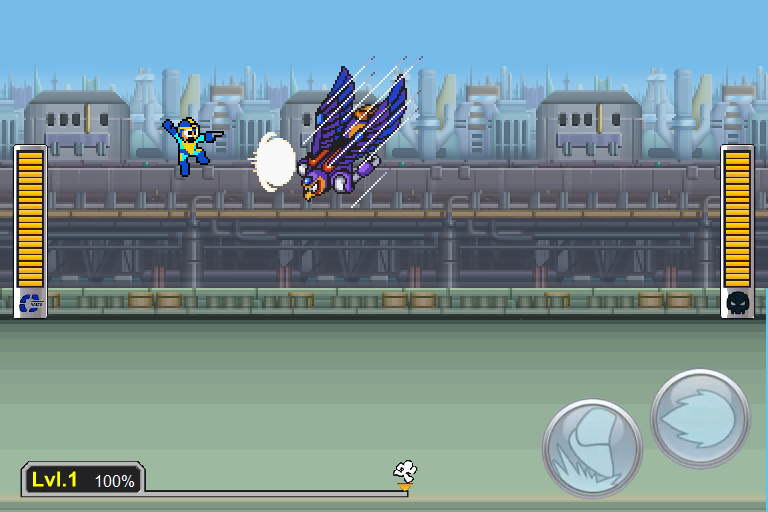 Yes!!! A new … um … Bad Box Over update?
Sure thing. Well, I've been very busy the past year, switching between multiple projects, improving the workflow and extracting as much game code in a single reusable game framework as possible.
So, at the moment I haven't been working in one but three games at the same time: Bass Abyss, Bad Box Over and Fall of 21XX. Oddly enough, Bad Box Over is the game were I had the most progress, mostly because recently I had a surge of ideas to get a decent speed on my mobile phone, but so far the results have been very poor. I have more experiments to make, but considering all the clean up and fixes I did to get to this level, for desktop I think it is a very good update. Some changes include:
Adjusted the size and positioning of objects in the scene.
Replaced some textures with new captured ones.
Improved background parallax effect.
Many small visual touch ups and fixes.
Probably next time I expect to have a new level or at least a score system. Enjoy my adventures in the world of casual gaming!
October 19th, 2012 IRA
Hello everyone. I'll be very busy this weekend so I'm publishing what I have now.
I heard how much you love Mega Man Xover, so I created a Flash version starred with everyone's favorite Bad Box Art Mega Man for added fun.
I'll be posting more in a next update. For now enjoy!