January 27th, 2015 IRA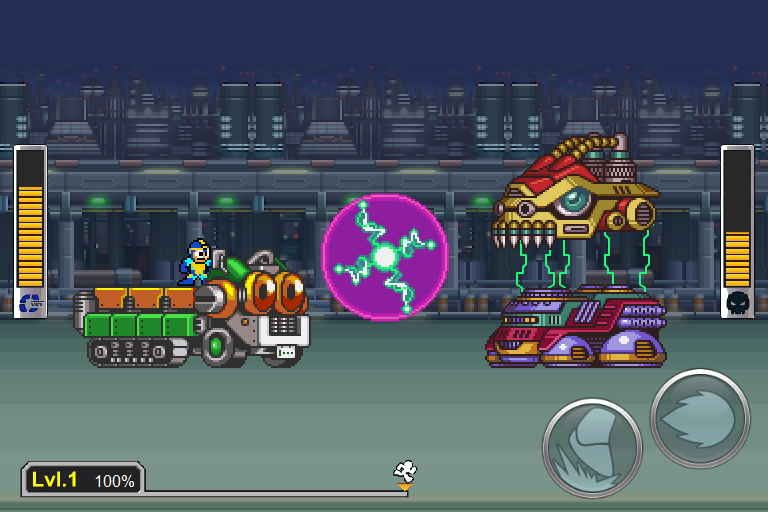 Hello guys. First update of the year, and hopefully not the only one, but well, at least this is a big one.
I recently enjoyed a holiday so I used my time to resume my work on my games. I wanted something simple so Bad Box Over was the best candidate. But as usual, simplicity is an understatement that nobody gets to understand until they sit down and try to code one of these little beasts. Luckily the enjoyment of seeing progress and solving new problems along the way kept me curious and motivated to advance and complete this update.
From the previous teaser ending I knew I wanted to have at least a new level with Bad Box Art Mega Man driving Auto's truck causing mayhem on the streets. One thing lead to the next, so here's a brief list of the new features:
Improved horizontal scroll and speed up.
New Map: Level 2.
New Boss battle: DRex.
New music and improved music support.
Spike support.
Truck hit support (this is hilarious).
Truck stomp support.
Shielded areas.
New boss death animation theme.
Boss shots.
Better pause.
Warning banner.
Ready banner.
Multilevel support (Linear quest).
Configurable game scene (map, backgrounds, music, player, boss)
Checkpoint, death and resume support.
New cut scene.
Truck destruction.
Item logic. Energy items. Energy load.
I had to stop there for this cut, but as you can see in the new cut scene I have already set me up for  new gameplay elements that will not make the next update any trivial either. Oh well.
I have recorded some videos that you can check if you don't mind spoilers.
March 16th, 2014 IRA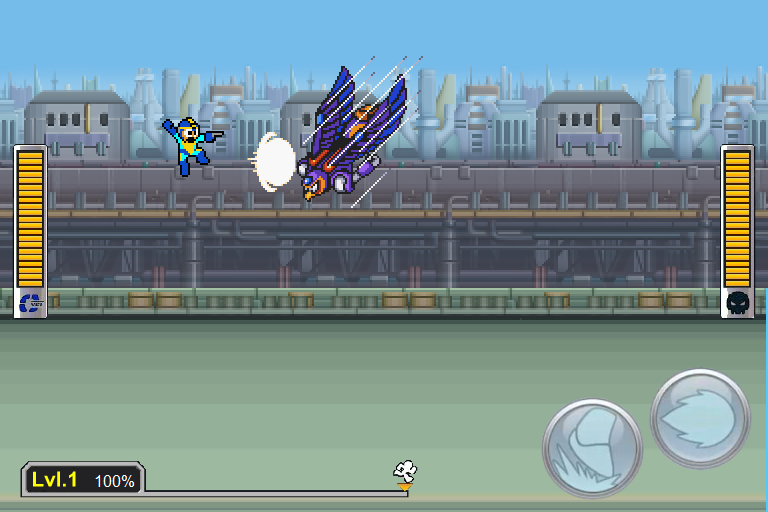 Yes!!! A new … um … Bad Box Over update?
Sure thing. Well, I've been very busy the past year, switching between multiple projects, improving the workflow and extracting as much game code in a single reusable game framework as possible.
So, at the moment I haven't been working in one but three games at the same time: Bass Abyss, Bad Box Over and Fall of 21XX. Oddly enough, Bad Box Over is the game were I had the most progress, mostly because recently I had a surge of ideas to get a decent speed on my mobile phone, but so far the results have been very poor. I have more experiments to make, but considering all the clean up and fixes I did to get to this level, for desktop I think it is a very good update. Some changes include:
Adjusted the size and positioning of objects in the scene.
Replaced some textures with new captured ones.
Improved background parallax effect.
Many small visual touch ups and fixes.
Probably next time I expect to have a new level or at least a score system. Enjoy my adventures in the world of casual gaming!
June 29th, 2013 IRA
Hello guys, I'm publishing a brief update. I've been doing a lot of maintenance work in the server side code, so I don't have much to show at the moment. However I had this little Bass Abyss change in store for a while so I decided to publish it now.
When you blow up certain enemies, you'll see all sort of little fragments flying around. I've been a fan of this in Mega Man X games, so I really felt I was missing something every time I blew some enemy up.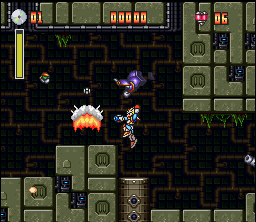 Usually you don't see these fragments within a particular sprite sheet so you have to rip them individually on your own. While on air they switch between visible and invisible, requiring some correct timing to get them all. Collecting all possible fragments of every possible enemy can get quite time consuming, so probably I won't do this very often, but still, it is nice to have the infrastructure in place in case I feel like doing the job for a certain enemy later on.
October 19th, 2012 IRA
Hello everyone. I'll be very busy this weekend so I'm publishing what I have now.
I heard how much you love Mega Man Xover, so I created a Flash version starred with everyone's favorite Bad Box Art Mega Man for added fun.
I'll be posting more in a next update. For now enjoy!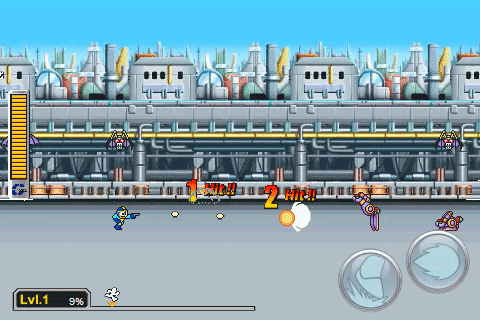 September 23rd, 2012 IRA
You might have noticed something different. Yes, Iragination is sporting a new site design. I rolled it out a few days ago. But maybe more intriguing was the fact that I kept complete silence about it during these days. Sorry about that, that's just how busy I am sometimes. Anyway finally I can sit down and write about this recent change.
Is this what have kept me busy since my previous update? Unfortunately yes. I'd like to tell you I've been working in something else, but I really don't have a big update for Bass Abyss or something else just yet. This was something I had to get out of the way first, it was a pretty big deal to get it done so I won't let it go as some casual change. I have to make a big fuss about it to feel better.
Read more »
June 15th, 2012 IRA
Alright, I'm posting the current stable Bass Abyss game now before I get started with new stuff.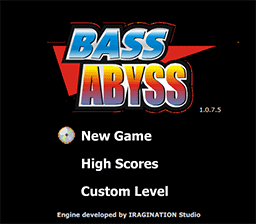 I might consider this just a maintenance update. There is a lot of going on behind the scenes, but unfortunately there's no new visible content to brag about. Yeah, it is frustrating when some project announces some update and then you download it excited wanting to check the new stuff but the truth is there's nothing to be seen. And then the developer goes, "Oh well, you see, we just did these important changes in the code base, cleaning some structures and decoupling some modules in order to get the flexibility to expand the platform and, bla bla bla. Also we fixed bugs and it is a more stable release". And then you go, "yeah yeah, but where is the GAME, new levels, the new music, weapons, maps, enemies, songs? WHERE?"
I know myself I've reacted like this quite impatiently in the past. Not vocal enough to embarrass myself though.
And it is not really my style to post an update like this, but really, weeks just kept going and going, and I had to accept I was not near to finish the changes I wanted to do before working in actual new content. So I just decided to stop, assemble an stable release and post it online before, you know, breaking it again into some work in progress state. This should give me some time before I get too anxious to update again.
But if you're really curious, here's a list of the stuff that kept me so busy.
A new screen system. Essentially I got rid of a lot of time line based navigation. Now it is all code based.
Why? Well, I'm planning to add key configuration at Main Menu level, and not force the player to start a new game before doing this. For this I have to be able to show the pause menu that was currently visible during gameplay. But the code was too coupled. Actually it was a symbol in the library. Adding and removing tabs was out of the question. Also, I didn' t want to duplicate this symbol just to have a "main menu" version. That would be a double work to maintain.
So, now to show the pause menu I went from timeline based: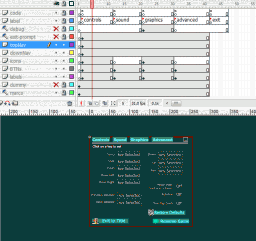 to simple code configuration:

		var mc:MovieClip = Game.mcRoot.attachMovie("TabMenuView", "PauseMenu", RootZorder.PAUSE_DIALOG_LAYER);
		var vc:PauseMenuController = new PauseMenuController(mc);
		
		var items:Array = [new ControlsViewController(), new SoundViewController(), new GraphicsViewController(), new AdvancedViewController()];
		vc.viewControllers = items;
		vc.bottomNavLinkId = "PauseBottomNavigationView";
		vc.showMinimizeButton = true;

		vc.viewDidAppear();

And now I can add custom tab names, reorder the tabs, add/remove tabs and a lot of other stuff that I probably won't use, but it is there and it is working!
If you're acquainted with IOS development, you'll notice the syntax somewhat familiar. Actually it is, because I based it in their UIKit Framework UITabViewController. I use to check a lot of frameworks, Windows, Android, IOS, and I like to implement the ideas I like the most. There are even traces of Midp coding style in my code.
And since I was in a roll I decided to clean the same way the main menu. Take a look at this monster:

Cleaning this was so much fun. For this one I implemented yet another IOS navigation style based on a class called UINavigationViewController. Now, if you abuse it you'll notice that you can go back and forward between screens.
Before, if could did:
Main Menu -> Character Select -> X Character Select -> Level Selection.
A 'Cancel/Back' action at this point used to take you back to the Main Menu. Not very friendly. Now you'll actually see the previous screen in the state you left them.
The same here.
Main Menu -> Custom Levels-> Paste Code -> Character Select -> X Character Select
Each 'Cancel' will go back one screen. For instance the Paste Code screen will keep the pasted code you just placed.
Yeah, I know, I know, very little details, but I just love this stuff, and once I started to do it I had to finish it before moving to something else.
Which reminds me, I haven't actually added the Key Configuration screen to the main menu yet. I'll do it, eventually!
Well, now that Capcom has finally released Mega Man X2 for the Wii Virtual Console, I'll have first a nostalgia play that surely will remind me a lot of stuff I had in store for Bass Abyss!