Joke's on you, Capcom. I'm releasing a playable Bad Box Art Mega Man before you. And it was ridiculously easy to do it. Who is laughing now?
To access him on Bass Abyss just select Mega Man and then Bad Box Art Mega Man. So, Mega Man is now a new page. I'm considering to move there the other 8-bit characters, just because the main character page is getting too cluttered. But maybe later.
And here's the sprite sheet edit I did. Please don't bash it much, I'm not very good at pixel art.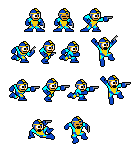 This was a really quick hack. Don't expect anything exceptional about this character. No new weapons. Nothing. I didn't even made him an opening because this concept simply didn't exist a few days ago. Seriously, writing this post took a lot more time than placing the character in the game. Consider this an anomaly in response to current events, but I'm done with it and now I'm back to my normal schedule.
I feel like writing. Would you like to read more about this?
Read more »